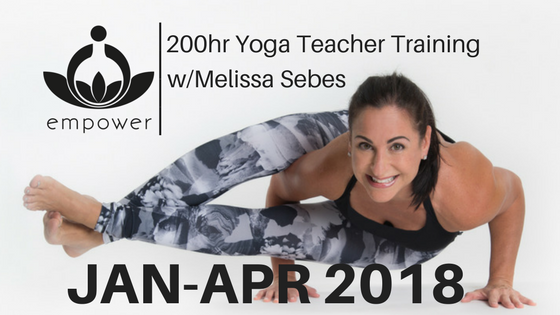 EMPOWER YOGA 200-HOUR TEACHER TRAINING w/Melissa Sebes
This comprehensive Yoga Alliance Approved Vinyasa Yoga Teacher Training program is designed for those Yoga Students who are interested in deepening their own personal practice, and for those who wish to share their love of Yoga with others by becoming a Yoga Teacher.   Embark upon this 4 month Journey as we delve into the many facets of Yoga while learning to teach a Vinyasa flow class as well as an introduction to specialty practices such as Prenatal Yoga, Restorative Yoga & Yin Yoga.
TRAINING CURRICULUM INCLUDES:
Advanced study of asana (proper alignment, benefits and potential risks)
Principles of Anatomy with Richard Gartner
How to observe bodies
Science and Art of Sequencing Vinyasa & Power Vinyasa Classes
PurArt of Assisting w/Shannon Shugart/Hands on Adjustments
Informed use of props to improve or modify a posture
Cultivating your voice through the art of effective communication
Confidence-building through practice teaching & public speaking
Pranayama/Breathwork
Meditation Techniques & Practice
Yoga History and Philosophy
The Different Lineages of Yoga & Teaching to Special Populations w/Shannon Prestopine
Chakras & The Subtle Energy Body with Kendell Romanelli
Sanskrit names of postures
The Business of Yoga and how to be successful as a teacher
DATES FOR TRAINING:
Orientation: Wednesday, January 17th ~ 6:00-7:30
8 Weekend Training Modules/Saturdays & Sundays from 9:00-6:00
January 20 & 21
January 27 & 28
February 10 & 11
February 17 & 18
March 3 & 4
March 10 & 11
April 7 & 8
April 14 & 15
REGISTRATION DEADLINE: JANUARY 10th 2018
Tuition:
$2,800 Early Bird Price until Nov 30th. ($3,100 Tardy Bird Price after November 30th)
Tuition includes UNLIMITED YOGA CLASSES for the duration of the training at Infinity Flow Yoga & Pilates.
Full payment or deposit of $500 is required with your application to reserve your spot.
The deposit will be applied toward tuition.
Payment plan is available if needed.
To obtain an application or inquire about details of program:
Attend the free Teacher Training Open House: September 27th.
6:45-7:45 Free Power Yoga Class w/Melissa Sebes (optional) with a Training
Informational Meeting immediately following class.


Contact Infinity Flow Studio Owner, Shannon Prestopine @infiflowstudio@gmail.com
or by phone 724-971- 1416


Or contact Melissa Sebes directly at MelissaSebes@gmail.com or 330-261- 5967
Don't miss this opportunity!! Sign up today to secure your place in the Winter/Spring 2018 training at Infinity Flow Yoga & Pilates!!
"The EmPower Yoga Teacher's Training was absolutely LIFE changing in the most amazing way! I learned more about myself on this journey than I have in my entire life. I'm so thankful for Melissa Sebes for truly giving all of herself as an amazing leader during this training."Kelly B.
"Melissa teaches with a calm mind, an open heart and a calm soul. She is truly an inspirational yoga guru!!!"Kelly L.
"Hands down, life changing."Erica W.
"Passionate and invigorating on and off the mat.   Melissa has wealth of yoga knowledge and shares from it her heart"Melinda P.