September Spotlight: Strength, Stamina and Stephanie Gibbs!
By: Leanna Litrenta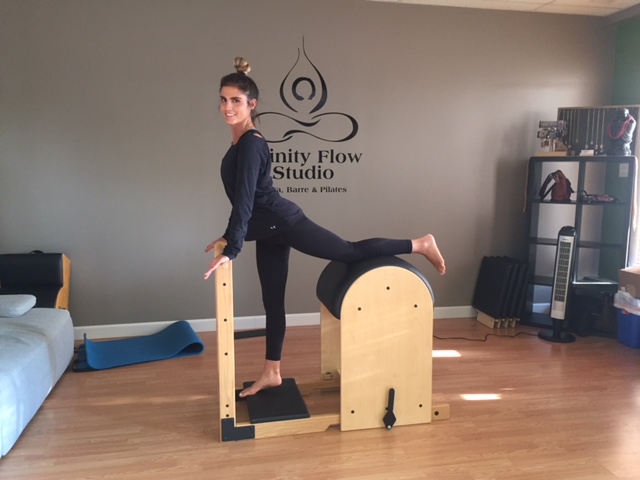 Stephanie Gibbs believes in Pilates. She believes in her clients. And she hopes you'll believe, too.
Stephanie's journey began with back pain and a yoga class. But it was Pilates that ultimately piqued her interest and evolved into a lifestyle.
When Stephanie entered the world of Pilates, she had herniated disk in her lower back. It wasn't long before the practice would change her life and aid in her recovery.
Long known for its rehabilitative qualities and effectiveness in strengthening the body's core, Pilates is a mind/body movement system designed to strengthen the powerhouse, create balance in the body and improve focus and memory.
"Pilates changed my back, it literally changed my life – this was my own rehab to myself, so I know it works," Stephanie said. "I just believe in it so much that I knew that's why I wanted to do it."
This energetic 26-year-old West Pittsburg resident hails from Georgia, and moved to New Castle after earning her degree in geology from the University of Alabama in 2014. She has been practicing Pilates for five years and teaching for about three – exclusively at Infinity Flow.
Stephanie's foray into teaching felt very natural to her. While discovering positive changes in her body, she also found herself explaining to classmates how she was performing the movements.
This led Stephanie to The Pines Studio in Wexford, Pa. where she earned both Level 1 and Level 2 Peak Pilates' certifications from master instructor, Jolie Becker.
She will achieve Level 3 certification, becoming comprehensively certified, within the next year.
"I'm in it, girl!" she said enthusiastically. "This is my lifestyle more than just a hobby or an interest of mine – I want to be able to offer all the knowledge I can to my clients."
By day, Stephanie works in sales for her family business, Precision Feedscrews, Inc., which specializes in plastics' manufacturing. She has always been interested in the Earth and its processes, and values the interconnectedness that she feels.
"I find all of these things making this grand connection – worldly, earthly, holistic wellness," Stephanie said. "Even though (plastics) is a different field, I can relate it in a way."
So when off-duty, you can find her teaching one of many Pilates classes at Infinity Flow:
Mat-Chair
Mat with Props (e.g., power circles, resistance bands, straps, balls, blocks, bars, wooden dowel)
Mixed Equipment (e.g., chair, reformer, barrels, mat)
Pilates workshops
Stephanie appreciates the different class combinations and apparatus because they enable clients to very broadly experience the Pilates method. She modifies her instruction according to the client's level of ability, but also to boost motivation and keep stimulated.
"I can modify and change things right on the spot – you don't get stuck doing the same thing," she said. "You're keeping it fresh, so it's a fun challenge and it makes me stay new."
Founder Joseph Pilates believed that we're only as young as our spines, she explained. And so Stephanie focuses on core strength, spinal flexibility, and realigning and rebalancing the body.
"It doesn't matter who you are, your age, or walk of life – anyone can do this – it can be modified for personal needs," Stephanie said. "It's just such an inclusive activity."
Clients seek Pilates training for many reasons and with varying goals. Some people enjoy talking about health and developing that relationship, while some want to lose weight, gain flexibility, or pick up their leg and stand on one foot, she said.
"I want (clients) to leave my class feeling better than they did when they came, and for them to achieve whatever they want out of it," she said.
It goes back to that personalized, individualized experience.
"It's so interesting – people end up loving this," Stephanie said. "It's for everybody and it makes my heart so happy."