2019  EmPower 200-Hour Yoga Teacher Training
By: Leanna Litrenta
"True yoga is not about the shape of your body, but the shape of your life. Yoga is not to be performed; yoga is to be lived. Yoga doesn't care about what you have been; yoga cares about the person you are becoming. Yoga is designed for a vast and profound purpose, and for it to be truly called yoga, its essence must be embodied." – Aadil Palkhivala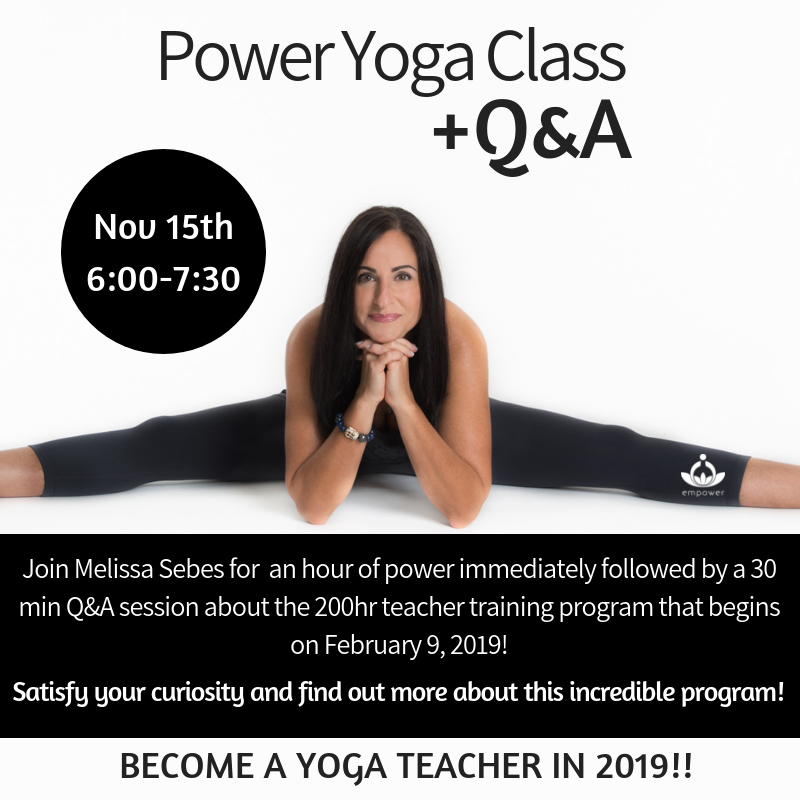 In the spirit of yoga's vast and profound purpose, Infinity Flow will host an EmPower Yoga Teacher Training Program in February 2019, led by instructor Melissa Sebes.
If you're thinking about teaching, or simply looking to deepen your practice, please consider attending an informative Q&A session at 7:10 p.m. on Thursday, November 15 at Infinity Flow.
During the Q&A, Sebes will summarize the training and answer any questions you may have about the process.
Meanwhile, a few special notes to consider, including a snapshot of what's in store.
Infinity Flow will offer this comprehensive, foundational training at the 200-hour level across four months at the studio starting on February 9, 2019, with Sebes at the helm.
The program, which Sebes designed, is approved by Yoga Alliance, a non-profit professional and trade organization that supports the yoga community including yoga teachers, schools and studios. Yoga Alliance has set standards by which yoga teachers are trained, and those meeting that criteria are considered to be Registered Yoga Teachers (RYTs).
Sebes, along with owner Shannon Prestopine and a selection of special guest instructors, will delve into all limbs of yoga's eight-limb path to really understand the healing practice of yoga.
"All of that really is what will put their life in high-def," Sebes said of the student experience. "And the journey of self-discovery is what comes from every one of these limbs."
During RYT-200 training, students will study – for example – postures, breathing techniques, meditation, yoga philosophy and yoga history.
The training will instruct students on proper alignment and technique, and prepare them as teachers to understand risk and use that knowledge to reduce and avoid injury.
Likewise, students will explore the science and art behind yoga sequencing and build sequences with uniqueness and creativity, so they may come to witness their own students someday expanding in both heart and physical space.
In addition, students will learn projection and other communication strategies along with Sanskrit terms, which they may be encouraged to incorporate into both personal and community practices in support of yoga's culture of origin.
Program leader, Sebes, has been practicing yoga for 15 years and teaching since 2006, with E-RYT certification. With each generation of students, Sebes enjoys being able to facilitate the process through which students grow and gain confidence – the process of finding out who they are and finding their voices, she said.
Sebes recalls fondly her own journey of self-growth through yoga, and appreciates yoga's positive impact on her life and relationships. This, along with her love for people and human connection, drives her to teach.
"I still remember my training and how much I've grown," Sebes said. "To be able to see that in others – it's the most rewarding thing I could ever do."
One tangible goal for the program will be teaching students how to teach a Vinyasa flow class. That said – not all students are required to teach at the end of the process, though Sebes said most will be eager to take that next step.
"They don't have to teach," she said. "But they gain so much confidence and ability – they learn from so many teachers – and they end up saying, 'I got this!'"
Sebes said that students will find themselves achieving many personal goals, and will develop a beautiful understanding of how special each and every person is – through a practice that transcends race, creed, color, language, ethnicity.
There's no difference in any one of us, my friends – and yoga teaches us that. It fosters love, kindred spirit, support, connectivity, balance.
"It's about finding your authentic self," Sebes said.
This training cultivates a certain level of knowledge, experience, understanding and confidence that enables students to "be wiser about themselves and who they are in life," Sebes said.
I would encourage all those who may be interested in this exciting, life-changing opportunity to attend the Q&A with Sebes at Infinity Flow on November 15.
Just before the Q&A, Sebes will lead a Hot Power Hour class starting at 6 p.m.
You can register for Hot Power Hour and other classes online at https://infiflow.com/yoga_class_schedule/ or by calling the studio at 724-971-1416.
For more preliminary information about the 200-Hour Yoga Teacher Training curriculum, including prior student testimonials, please visit https://infiflow.com/empower-200-hour-teacher-training/.
You should also feel free to contact the instructors directly: Shannon Prestopine (infiflowstudio@gmail.com; 724-971-1416) or Melissa Sebes (empoweryogateachertraining@gmail.com; 330-261- 5967).
# # #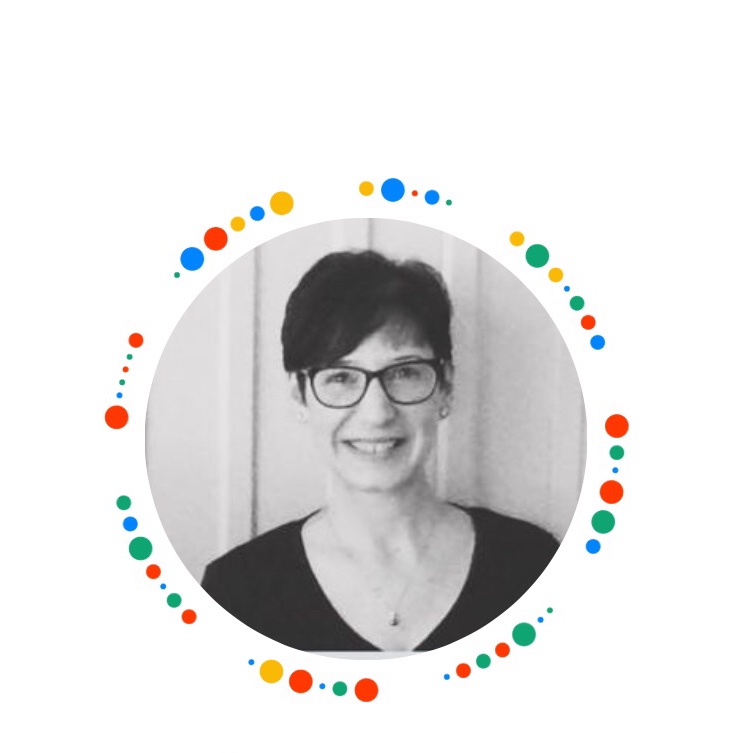 Leanna Litrenta is a local freelance writer with roots in community journalism. For nearly 20 years, Leanna has provided team leadership and legal support to top-ranked, global firms. In her spare time, Leanna practices yoga and meditation, and enjoys fundraising for local charities. Leanna holds a degree in journalism from The Pennsylvania State University, as well as graduate-level certificates from Duquesne and Cornell. She values local, small businesses like Infinity Flow, and knows that extraordinary things can happen when a community unites in positivity and purpose.